Learning how to freelance is better here.
Freelance smarter, not harder.
Be strategic, and start part-time.No "fake gurus" allowed.
Only pure value content from practitioners.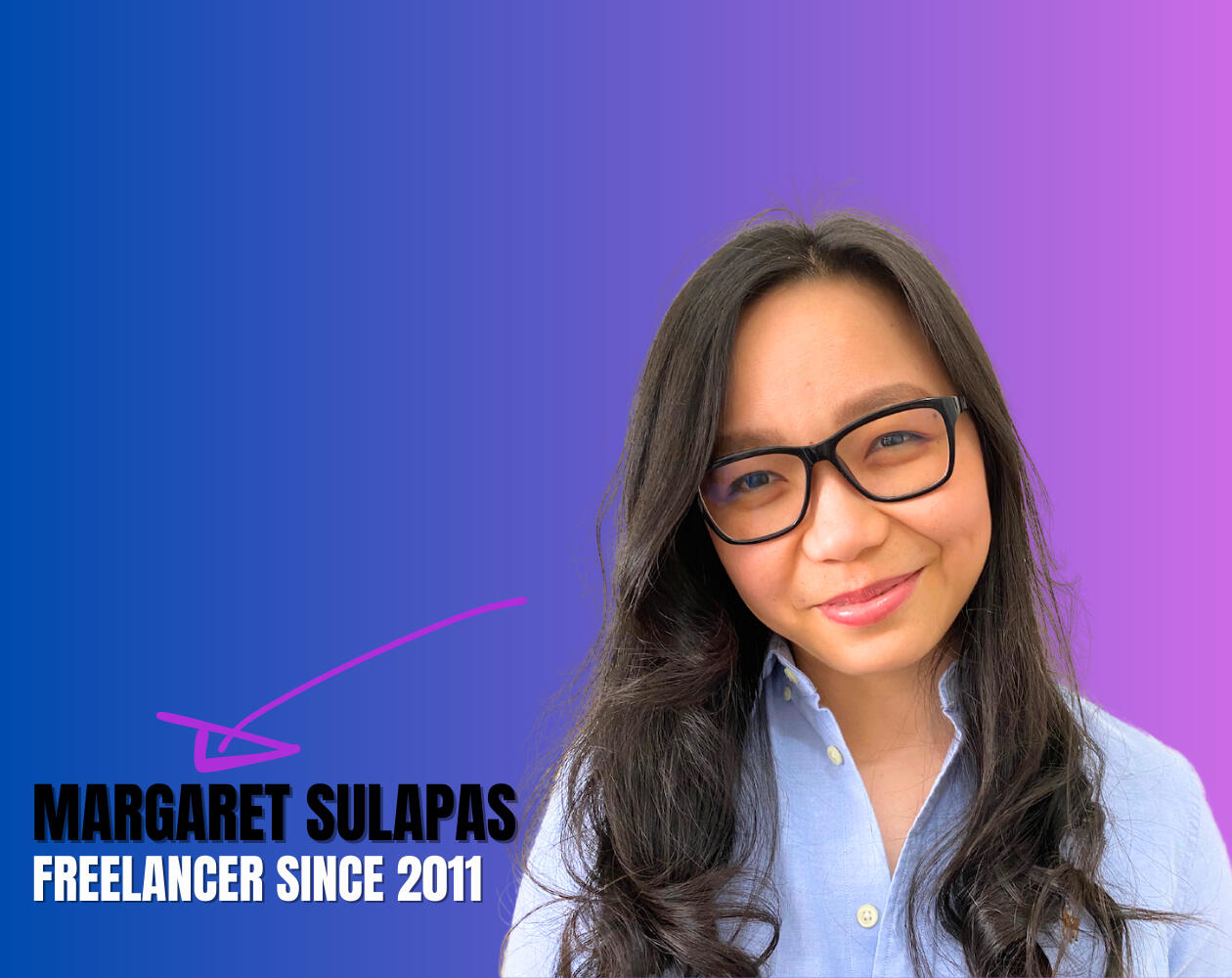 This is not a business-in-a-box or get-rich-quick scheme.
This is Systems & Processes
for those who want to start freelancing while working full-time or students who want to start earning while studying.
---
Why is freelancing part-time the best way to do it?Watch the video below👇
turn on the audio for full experience
Legit feedback about Article and Design
Testimonials
Check out what our students and members say about our lessons.
John Michael, Freelance Photographer & Designer
"I recommend Article and Design mainly because of the safe environment where I can express my inquiries, concerns, and thoughts about freelancing. This is lead, of course, by the owner and founder, Margaret. She is an actual freelancer. She do the teaching/sharing of thoughts and experience to us in Discord and Messenger.She is very approachable, I remember one time I reached out to her out of the blue via messenger because I got stuck what to answer to my client and with my surprise she had the time to accommodate all of my concerns. And which I was able to close a deal with my client.Also, they offer affordable prices for their jampacked content especially action plans that will really help me learn.Article and Design is not just about teaching freelancing, it's also about being in a safe community!"
Mar Elbert, Freelance Graphic Designer
"Learned a lot from Margaret and loved working with her - practical and straight-forward !Article and Design is a must have for all freelancers"

Lorna Bondoc, Founder & CXO, Yoveo Digital
"Article and Design brings a consistent ray of hope and empowerment to the Filipino community. A&D professionally promotes digital freelancing and has truly made an impact in the lives of countless individuals through their content. Thank you Sulapas Margaret and team for all you do!"

Felix Cordero, Freelance Web Developer
"After the workshop I try to apply what I learned, not all but when I apply one of the learnings I figure that is effective for me.Every episode of Article and Design is quite informative, which always helps newbies and those who are striving to become freelancers… If you don't know, the topic for this episode is a part of a course on some tutorial website, but it's being provided here for free.Thank you so much A&D <3 <3 <3"
Sophia Katherine Sarmiento, Freelance Graphic Designer
"What I liked best about the lessons is that it makes the concept of freelancing become much easier to understand and comfortable to undertake in because of how concise Ms. Margaret and the team has to say about certain topics in freelancing.I was able to absorb their freelancing guides, lessons, and tips (especially the free ones!) and apply them with my line of freelance work even if I am just a beginner."
Donna Faye, Hybrid VA & Digital Business Manager
"Margaret is concise yet detailed in explaining freelancer stuff. She really knows what she's doing and serves as an inspo to me."
Ed Escueta, Freelance Frontend Designer
"Yes, Ms Margaret is providing helpful tips that are based on her years of experiences as a freelancer."
❝
Like: The content itself. It's informative, direct to the point, no long detours to the point that it's out of the topic.Dislike: None so far...
Ivy Sabillo - Licensed Pharmacist & Motion Designer
Never buy another expensive freelancing course.
Access Our Helpful Lessons
Master the Art with Our Comprehensive Video Courses and E-Guides made by experienced freelancers.
Start your freelance career in 7 steps
(Validate First, Succeed Faster!)
Using No-code and AI tools, we can quickly set up your freelance business. This is great if you want to validate your services, if there's a marketer, or to start part-time.From identifying your profitable skill to offer, setting your rates and finding clients to balancing freelancing with full-time work or studies, we've got you covered.If you are a student or working full-time, jump into this course and learn the most important things you need.
The No-code and AI-powered Freelancer
The AI-Powered Freelancer' Course is Your Pathway to Remarkable Work.Learn to Leverage AI Tools, Craft Irresistible Service Offerings, and Price Your Services Strategically.It's Not Just About ChatGPT, It's About Harnessing the Neccesary Spectrum of AI tools and No-code options to Elevate Your Freelance Practice.
A&D PRO membership
Are you a freelancer wanting to make a sustainable income without the burnout?Our A&D PRO membership is for you!A&D PRO RealismYou will not be a freelancer forever. You will not enjoy doing a service-based business till you are 60.Because you will get old, and life will happen.No fountain of youth will keep us perpetually young. We will frame our lessons and discussions for A&D PRO in this realism.Because within this frame of realism, we have so many beautiful choices we can make.Our A&D PRO membership includes all the courses and guides you need. Our lessons are self-paced, allowing you to learn at your rhythm.A&D PRO teaches the GET PAID OFTEN & SET CLIENTS FOR LIFE system.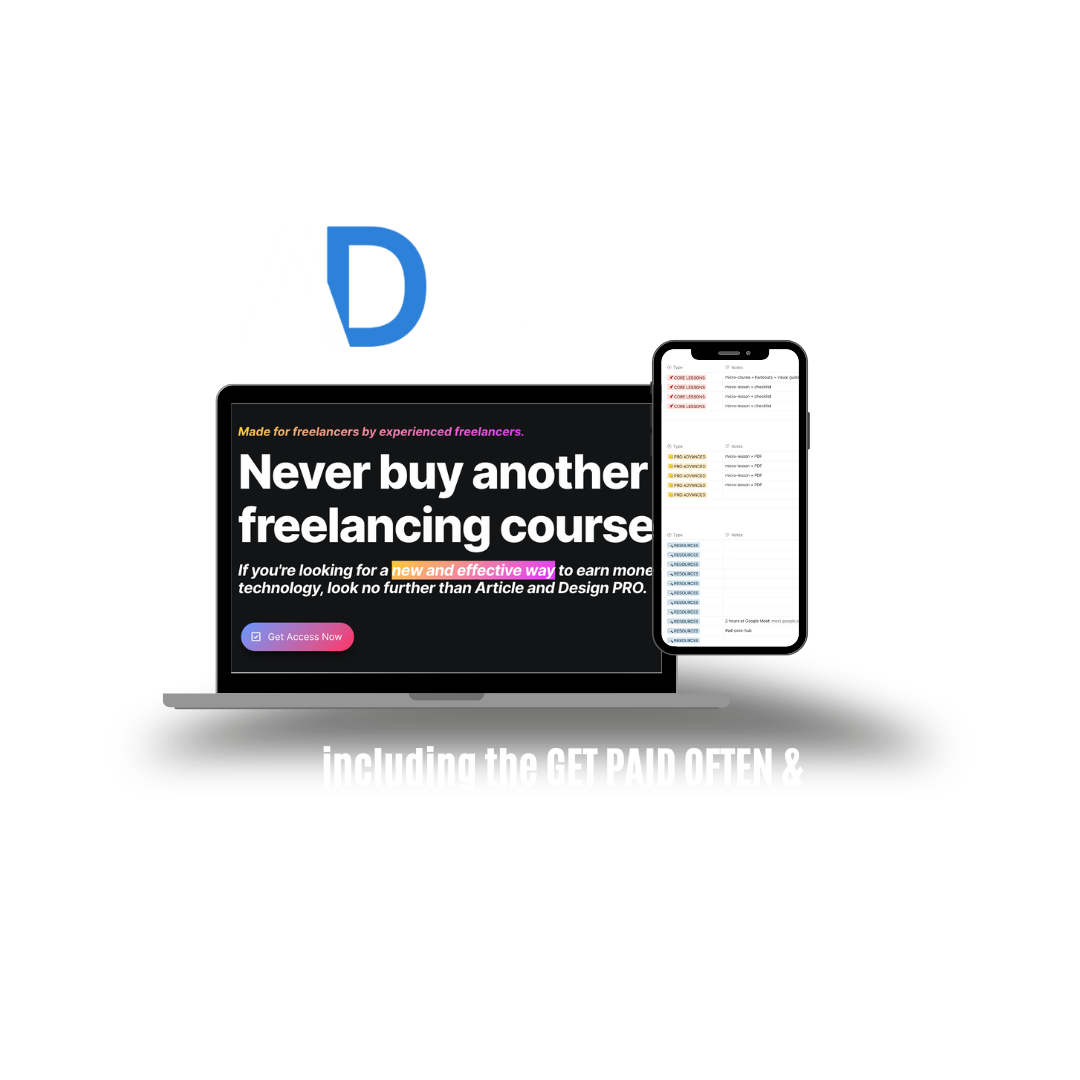 Superfreelancers course
(for Filipinos)
Want to learn freelancing in Tagalog-English language? This comprehensive 21-steps freelancing course is for you.Designed for beginners and intermediate freelancers who wants to create systems and processes.THE MOST COMPREHENSIVE FREELANCING COURSE FOR FILIPINOS.
Filipino Freelancer's Marketing Bible
(for Filipinos)
Struggling to Attract Clients? Magnify Your Market Value with the Only Marketing Course Tailor-Made for Filipino Freelancers:Learn to Price, Promote, Transform Your Marketing Skills, Overcome Client Objections, Write Better Emails and Position Yourself for Success!
The Freelancer's Manifesto
A&D Freelancers' Manifesto is a set of guidelines for freelance workers in the digital world.The document is meant to help freelancers navigate the often-precarious world of contract work.In addition to outlining best practices for working with clients, the manifesto also serves as a call to action for businesses to do better by their freelance employees.It's free and only 9 pages long - the perfect size to fit all the knowledge you need to succeed in your freelancing business. Don't miss out!
FREE 2-hour crash course:
10-steps to Start Freelancing
(for Filipinos)
Struggling to Attract Clients? Magnify Your Market Value with the Only Marketing Course Tailor-Made for Filipino Freelancers:Learn to Price, Promote, Transform Your Marketing Skills, Overcome Client Objections, Write Better Emails and Position Yourself for Success!
❝
"I also like that the webinar was very informative and engaging. Also, the presentation was well-prepared. Ms. Margaret has very good communication skills, articulate and smart. A good social atmosphere, especially chatting/interactions with the speaker is allowed."
Kaizza Angela de Taza - Webinar Attendee
❝
"What I like most to the speakers is that she has a quality voice. The Way she discuss and talk it capture my attention. And she has the charismatic voice, her voice is like angel locsin."
Christine Centino - Webinar Attendee
Not yet convinced?
Check out more Testimonials here
Everything you need, and nothing else.
Freelancer Toolkit
Build, earn, and leverage your skills + AI tools.
STATS
Our Mission
Our mission is to help you build a service-based business that you can GET PAID OFTEN and SET CLIENTS FOR LIFE, without the burnout.
+2000
Members
Community to date
12
Ambassadors
Pioneering members
7
Courses
On-demand videos
GET TO KNOW ARTICLE AND DESIGN
About Article and Design
Article and Design is created by Margaret Sulapas.💡Through her unique experiences since 2011, she's accumulated a wealth of wisdom, learning not only from her triumphs but also from her missteps. And now, she brings this richness to you, sparing you the pitfalls and leading you directly to the peak of success.Margaret's mantra is simple yet profound - Learn to Learn, and eventually, Learn to Earn. Because in learning, you find the key to self-reliance and self-growth, leading you down the path of excellence that only you can forge. After all, your success lies in your hands.At Article and Design, we put theory into practice. We offer you practical courses and guides based on real-world experiences. Our mission is to equip you with a step-by-step roadmap, showing you the when, what, and why of becoming a PRO freelancer.Moving away from the conventional guru-led approach, we offer a community of practitioners ready to support and guide you. Our commitment to you is a journey unlike any other, an expedition teeming with knowledge, growth, and inspiration.So, welcome to the new paradigm of learning – a place where you'll discover how to tailor a freelance business to your lifestyle, earning on your terms.While we hold a special place for Southeast Asia's untapped talents, our doors are open to all. Article and Design stand as an emblem of practicality, transparency, and aspiration, devoid of any discrimination. 🌈Here, it's your passion, commitment, and work ethic that matter, not your corporate experience, race, gender, age, or educational background.Our community is not just about fostering individual growth, but about nurturing collective progress.Come aboard with us in Article and Design, an initiative born from the vision of Margaret, our Australia-based 🇦🇺🇵🇭 Filipino freelance Digital Marketing Strategist.So, are you ready to dive in? The water's just right!
OFFICE
Meet our humble team
We are introverts, independent and fully remote.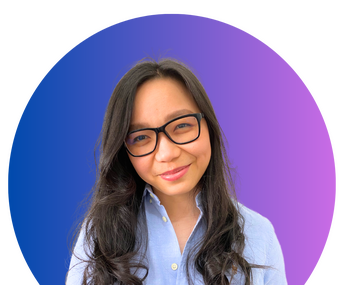 Margaret Sulapas
Owner & Instructor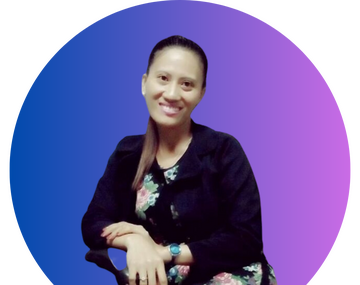 Rhodora Gales
Freelance Virtual Assistant
READY?
Earn a living you can be proud of.
If you're looking for a new and effective way to earn money using your skills and AI technology, look no further than Article and Design.